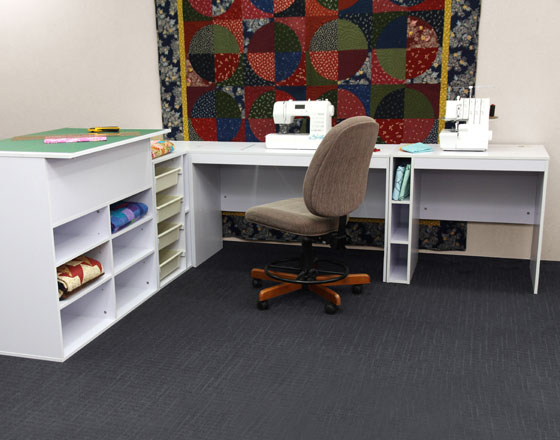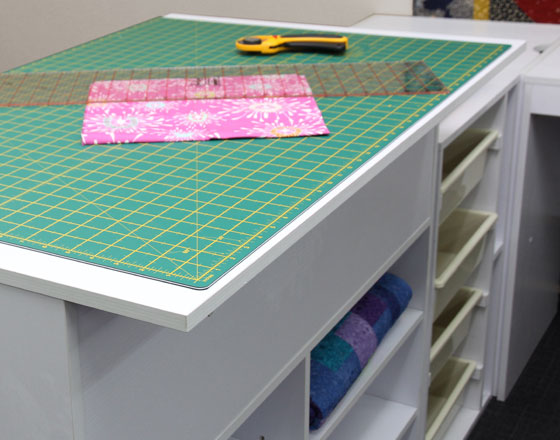 SPECS
Drawers & Chest
(W) 50cm / 19.75"
(H) 74cm / 29"
(D) 50cm / 19.75"
Table
(W) 120cm / 47.25"
(H) 74cm / 29"
(D) 50cm / 19.75"

Cutting Table
(W) 100cm / 39"
(H) 92cm / 36"
(D) 62cm / 24.4"
(Base D) 50cm / 19.7"

Overlocker
/Embroider Cabinet
(W) 80cm / 31.5"
(H) 74cm / 29"
(D) 50cm / 19.7"

Create your perfect sewing room starting with the essential combination of sewing table, storage chest and drawers.
This modular unit is ideal for those short on space or for those who want to create the best setup to suit their needs. Simply add units to create more storage or sewing areas and alter their position to suit you and your space!
Easy Transport
The elements series comes flat packed with easy and clear assembly instructions. This means affordable freight and pickup options available from your local store.
Sewing Table
The sewing table features a manual lift to provide the opportunity for free-arm or flatbed sewing.
Storage Chest
Hide your overlocker or works-in-progress with the storage chest. Its deep space will fit most overlockers and the open area underneath lets you store any extra bits and bobs.
Sewing Drawers
Four-drawer storage allows quick access to essential hobby tools and supplies. Lightweight and removable, the trays can move around the room with you, creating an easy work flow.
Elements Cutting Table - 92cm
Sturdy cutting surface fits a large cutting mat. Easy lift lid for hidden storage and handy open shelves.
The perfect addition to the current modular Elements Range, the Elements Cutting Table is a sturdy unit ensuring a steady cutting surface. The compact size is ideal for smaller setups whilst the surface is still large enough to fit a 90 x 60cm cutting mat.
Get more from your cutting table with six open, adjustable shelves for quick access items and a large storage area concealed under the easy-lift lid. This taller unit is at an ideal cutting height designed to reduce back fatigue caused by bending.
The shelving depth matches the current Elements range with an extended cutting surface to fit your Sew Easy 900mm x 600mm cutting mat with room to spare.
Elements Overlocker/Embroider Cabinet
Works in perfect harmony with the storage chest. A nice sturdy and spacious table for overlockers and embroidery machines, with ample storage for all your equipment, materials and bits and pieces.
Fit in perfectly with the other cabinets and tables in the Tailormade Elements range.
Elements Overlocker/Embroider Cabinet: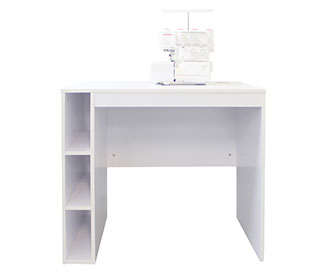 Features:
Units sold separately - mix and match to create your ultimate sewing studio
Large machine lift platform of 58.5cm x 29cm rated for 14KG
Mechanical lift: flatbed and free-arm sewing
Recessed, snag-free storage compartments and shelves
Storage area for books and magazines
Configure the units to suit you